Here at EK Dance Academy, we offer dance classes in a wide range of styles. So whether you like the elegant positions of Ballet or the funky style of Hip Hop, we have a class for you! Check out the classes we offer below:
Classical Ballet
Ballet is the foundation of all dance technique.  Ballet classes focus on building technique, strength, flexibility, alignment and core stability. These classes are recommended for all dancers to provide an understanding of the body and movement, and to build a strong foundation of dance technique.
Jazz
Jazz is a commercial style of dancing that incorporates technique such as kicks, turns and leaps and is great for developing flexibility and fitness. Often associated with musicals such as Chicago or Fame, jazz is also the style used by pop stars such as Kylie Minogue, Madonna and Britney Spears and often features in pop concerts, opening ceremonies and music videos.
Tap
This style of dance is very enjoyable to learn and focusses on the rhythm that is kept by the noise of the dancer's shoes on the floor. Tap dancing is often seen in movies or in musicals such as Tap Dogs and Aladdin.
Contemporary / Lyrical
Combines the techniques of jazz, contemporary and ballet. Contemporary / Lyrical is a creative dance form that combines a strength with a sense of release. It invites dancers to use their bodies to interpret the music. Choreography usually tells a story or portrays a theme. The "lyrical" side generally refers to the expressive, melodic and highly emotional quality of dance. Dancers gain fluidity of movement, grace and control.
Hip Hop / Funk
Hip Hop is a broad category that includes a variety of urban dance styles. Constantly evolving from the earlier styles of breaking, locking and popping, hip hop is a free, funky and soulful expression of movement used by artists such as Usher, Ne-Yo, Chris Brown and Rihanna.
Acrobatics
With a focus on stretching, strength, conditioning and flexibility, acrobatics will develop core strength as well as teach lifts, tumbling and balancing positions, giving great improvement to the dancer's agility.
Creative Dance
This class is designed for children aged 3 – 4. It is a creative movement class that is a combination of Jazz, Tap and Ballet. This class focuses on fun and play-based learning using props to guide the learning process in the development of co-ordination, balance, awareness of body and space, musicality, rhythm, and confidence.
Pilates
Mat Pilates is a strengthening and lengthening form of exercise that  focuses on your core (trunk) muscles while also training your arms and legs. This  class does not participate in our end of year concert. 
Pointe
Pointe is part of classical ballet technique made possible by pointe shoes. This class has a strong focus on building ankle and leg strength. Dancers must participate in ballet class and be recommended to join pointe. Please consult our ballet teachers before enrolling for this class.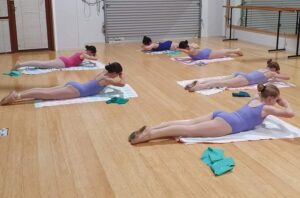 Progressive Ballet Technique
Progressing Ballet Technique (PBT) is a program developed by Marie Walton-Mahon to help students advance in all dance forms by training muscle memory. PBT focuses on core stability, weight placement and alignment. Students require a yoga mat, fit ball, TheruBand , a medium ball and small ball for the class.
Silver Swans
Silver Swans Ballet is for adults age 40+ which focuses on the same foundations as Classical Ballet but is tailored for more mature bodies. It will help improve mobility, posture, coordination and energy levels.
Parent and Me – Level 1 (18 months – 2.5 years)
These classes are fun! They  have been specifically designed to focus on the key areas of development for  children aged 18months – 2.5 years old. Lessons require Mum, Dad or a carer to  participate to provide that added security and assist with the settling phase of this  tender age group. The wonderful thing about Parent and Me classes is that we are  very inclusive. You will find both mums and dads and also grandparents, aunties,  and family friends in attendance at class. This class does not participate in our end  of year concert. 
Parent and Me – Level 2 (2.5 years – 4 years)
In this class, parents and carers now take a step back as the children dance independently in the class, although we do invite you to remain in the studio and watch. Whilst it is a progression of the  Parent and Me Level 1 programme and builds on the foundations, Level 2 offers a unique and totally different syllabus with new and engaging themes. As the imaginative process has usually started to develop for children of this age, we focus on extending their creativity and providing our little students with opportunities to further explore their own imagination through dance and music. Our primary aim,  as always, is to develop the grounding foundations of dance in a fun and engaging way. This class does not participate in our end of year concert.
Strength and Conditioning
Strength and Conditioning is the selection and  development of dynamic /static exercises used to improve physical performance.  It is the practical application of sports science to enhance movement quality. This  class does not participate in our end of year concert. 
Musical Theatre
This class focuses on development of singing, acting, dancing and movement skills in a variety of musical theatre performing styles. Students will learn and perform songs and scenes from a variety of musicals and Broadway shows.